WE MAKE CONSTRUCTION BIN RENTAL EASY
Want to make your home renovation project clean? We provide all the right bins for your waste removal needs. Make a call, and we'll take care of the rest. Your only problem is to fill it up (and we know it's not a real problem).
We'll deliver a right-sized waste bin to the job site, put it where you need it, and will pick it up when you're done. No trace, no leftovers, no hassle.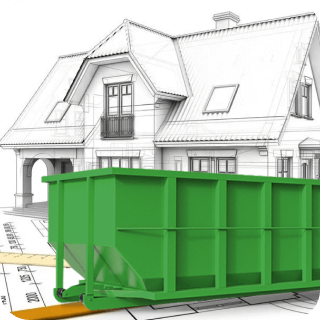 We can deliver the bin empty for you to fill or bring any material for your project inside.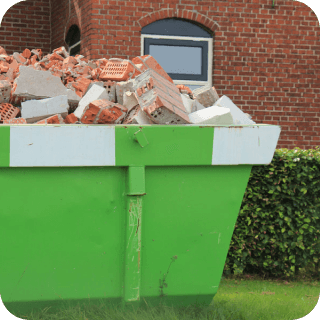 THE RIGHT SIZE
FOR YOUR NEEDS
7 to 40 yard bins are available to perfectly fit the volume of the construction waste.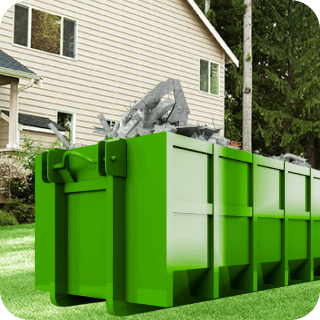 FOR AS LONG AS IT'S REQUIRED
Starting from one week and up to several months — for the whole duration of the project.
WHEREVER YOU NEED A BIN,
RIGHT ON TIME
We deliver empty or filled construction bins everywhere in the Greater Toronto Area. Wherever you are, a nice and clean waste bin can be at your property at just the right time in one business day. We make sure our team unloads it and picks it up accurately, with no damage to your driveway or lawn. Regardless of your job site's location in Toronto, we can make construction waste removal the easiest part of the project.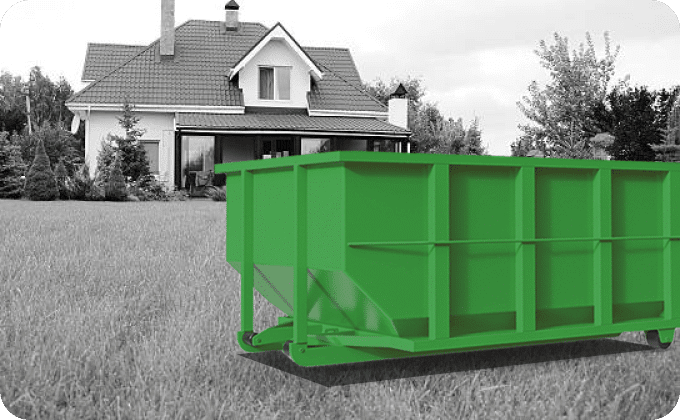 You're one call away from crossing out the bin rental from your project's to-do list. Let us know where & when you need your waste disposal problem solved.
WHY PEOPLE CHOOSE RIGHT BINS?
Just choose the right bin, and we'll deliver it. Perfectly clean, empty or filled with the materials, affordable, fast and simple. We're 100% sure the project has more important things to focus on, so we'll make construction bin rental as hassle-free as possible. Just like we already did for hundreds of our clients in Toronto.
CLEAN
No dirty bins in the driveway. Our equipment is new, perfectly washed before delivery, and double-checked before the drop-off team arrives.
HASSLE-FREE
Your only problem? Filling it up. We will take care of the rest. From installation to proper disposal, you don't have to worry about the process at all.
AFFORDABLE
We know that complex construction projects are not cheap. With Right Bins, waste removal and the bin rental won't turn into a major expense.
TRANSPARENT
No surprises. You know the full price from the start. We'll provide the full service as ordered and never come up with unexpected extra fees.
CHOOSING THE RIGHT BIN IS EASIER THAN YOU THINK
To make the process truly hassle-free for you, we need to know some details. Instead of wasting time on a thousand questions and a dozen of calls, we made a simple form. It takes less than one minute to fill it.
Please tell us about the size of the bin you need, how do you want it delivered, where do you want us to carefully place it, when do you want it to come and when to disappear with all of the waste. That's it!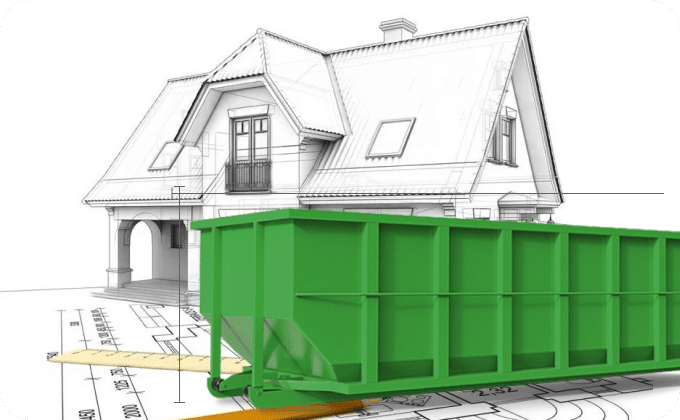 Wherever you are in the greater Toronto area, our construction bin rental service is one call away. Regardless of your exact location, we'll deliver the bin right on time, will install it carefully, and will take it away when you don't need it anymore. There are no limits for our team in the GTA, so you can expect the experts to always arrive on time.
The quality of our work and our hassle-free approach remain unchanged throughout the whole service area. However, depending on your location, regulations may vary in terms of installation and waste management rules. Please choose your area and check for details — we provide geo-specific estimates.
Don't see your area listed? No problem!
Call (437) 833-2196 to learn whether your location is within our reach.
FOR ALL YOUR RENOVATION WASTE NEEDS
In accordance with the current regulations in Toronto, you can dispose of different types of waste separately. It makes the waste management easier for the services, but not for you. We do our best to balance it and offer various options:
Mixed waste bins
Asphalt and concrete waste bins
Bricks and blocks bins
Dirt and concrete bins
Only asphalt, only concrete, or only soil (dirt) bins
Some of these options require separate disposal. If you're not sure — make a call, we'll help you choose the right one.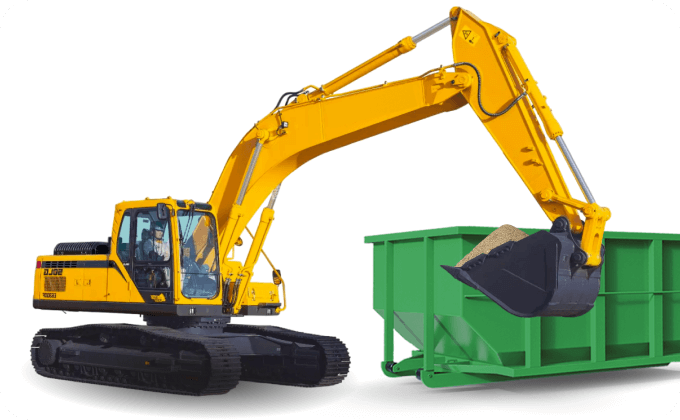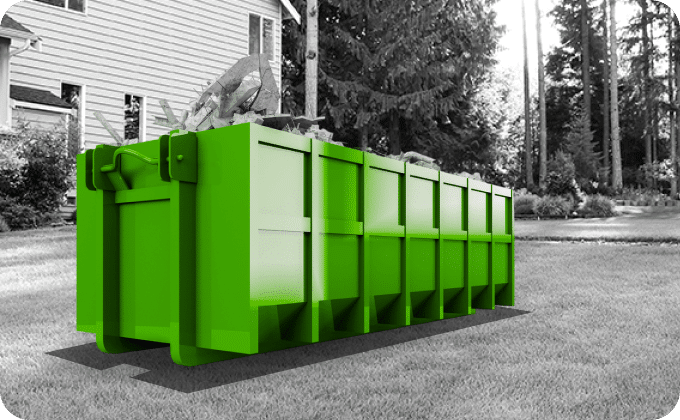 ORDER THE RENTAL BIN WITH ANY MATERIALS YOU NEED
We can deliver the construction bin empty with just one function: waste removal. However, we can just as easily bring any materials inside:
Soil
Sand
Gravel
Mulch
And more
Check the Online order form for all available options and make your construction bin rental twice as useful for your renovation goals.
You're one call away from crossing out the bin rental from your project's to-do list. Let us know where & when you need your waste disposal problem solved.
CONSTRUCTION BIN RENTAL — FAQ
What is a construction bin rental?
A construction bin rental is a service that allows homeowners, contractors, and businesses to rent a bin of varying sizes to dispose of construction debris, landscaping waste, and other junk that accumulates during a renovation or construction project.
At Right Bins, we offer bin rentals for residential, commercial, and industrial use. We deliver the bin to your location and drop it off, allowing you to fill it up with all the unwanted debris and waste from your project. Once you have finished filling the bin, we will come and pick it up for disposal. Simple as that!
Do you have licenses and permits needed?
Yes, Right Bins is fully licensed and insured for all types of work we do. We have:
Ministry of Environment license;
Commercial General Liability Insurance (CGLI);
Worker's compensation coverage for every member of the team.
Legally, we're fully covered, so both our workers and our clients don't have to worry about anything.
Can I rent a construction bin?
Yes, you can rent a construction bin from Right Bins if you are within our service area. We offer construction bin rentals for pretty much anything:
Residential;
Commercial;
And industrial use.
To rent a construction bin anywhere in Toronto and the Greater Toronto Area, simply give us a call or place an order through our website. It's pretty simple and flexible, and we're yet to see at least a single order we can't process.
How does the price get calculated?
The price for our bin rentals is calculated based on several factors. We have a special calculator form on our homepage that you can use to see the final price, based on several factors:
The size of the bin you choose;
What materials you want to be delivered with the bin (or whether you need them at all);
The type of waste that you will be disposing of;
Rental duration.
You can add some specific details if you need, but they're unlikely to affect the price. The factors above largely determine how much you pay.
What is a mixed waste?
Mixed waste is a type of waste that contains a combination of different materials that are not easily separated. In the context of Right Binsrental services, mixed waste typically includes various construction debris, and other types of non-hazardous waste that cannot be easily separated into different categories.
Examples of items that may be considered mixed waste include:
Old furniture;
Appliances;
Construction materials (like broken tiles, old flooring);
Cardboard and packaging;
And general trash.
Mixed waste is not hazardous waste, and it is not considered to be recyclable or compostable.
When you rent a bin from Right Bins, we offer different options for different types of waste, including mixed waste. We comply with regulations in Toronto and province-wide rules to ensure that all waste is disposed of safely and responsibly. If you have any questions about the types of waste that are accepted in our bins, please don't hesitate to contact us for more information.
What is a clean fill?
Clean fill is typically defined as non-contaminated soil, gravel, sand, or other similar materials that are free from debris and other types of waste.
Examples of clean fill materials include:
Dirt;
Rocks;
Concrete;
Asphalt.
These materials are not considered to be hazardous waste and can be safely disposed of in a landfill or other designated facility.
Are there alternatives to construction bin rental?
Sure there are! None of them are better or even available for all, though.
If you have a small amount of waste and a vehicle capable of transporting it, you may be able to haul the waste to a disposal location yourself. However, this option can be time-consuming and will cost you gas money, possible damage to your car, and extra fees at the facility (paid every time you enter it).
You can try to avoid those fees and just dump your garbage somewhere illegally, but it will result in hefty fines and other legal consequences. The fines go up to 5000$, let alone the moral part of the issue, so we hope you don't even consider it an option.
At Right Bins, we believe that renting a construction bin is the most efficient and cost-effective way to dispose of construction debris, landscaping waste, and other junk. Our services are designed to make waste disposal easy and convenient for homeowners and contractors, while also remaining affordable.
Do I need to order in advance?
While we do recommend ordering your construction bin rental in advance to ensure availability, the Right Bins team is capable of delivering your order on the same or next day as well.
We understand that in home reno projects, anything can happen suddenly and unexpectedly. If you have an urgent need for a construction bin rental, please give us a call, and we'll do our best to deliver it ASAP.
What size should I order?
The size of the bin you need depends on the scale of your renovation project. We have a detailed guide for each of the sizes we offer, but here's a simple estimate:
4 to 8 yard bins. Exceptionally tiny, fore small projects or ordinary clean-ups or minor renovations;
10 to 14 bin sizes. Big enough to hold a lot of waste, but not too much. Suitable for all small projects;
16 to 20 yard bins. That's the most you need for a typical home reno or a landscaping project, our most popular option;
30 yard bins. For projects that are guaranteed to generate an above average amount of waste;
40 yard bins. Exceptionally big. Unless you plan on demolition the whole building or digging out your whole yard, you — most likely — don't need a bin this big.
In general, we can say that a 20-yard bin will fit any average-sized amount of junk from the majority of projects. However, you can talk to our experts to determine the right size with more accuracy.
RIGHT BINS — OF ALL THE RIGHT SIZES
You don't need to overpay for a 20-yard bin if you have just a dozen You don't need to overpay for a 20-yard bin if you have just a few bags of waste. And if you order a bin too small for your project, it may result in extra inconveniences. That's why we offer a wide spectrum of sizes:
7-yard bin
10-yard bin
14-yard bin
20-yard bin
40-yard bin
The options go up to 40 yard large commercial-grade containers. Order a free quote and we'll help you choose the right size, based on your project.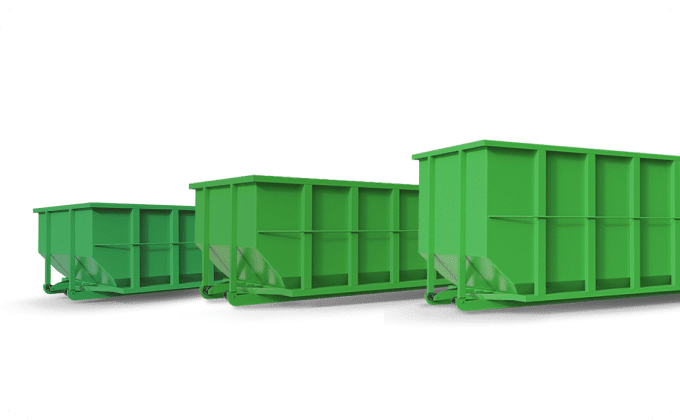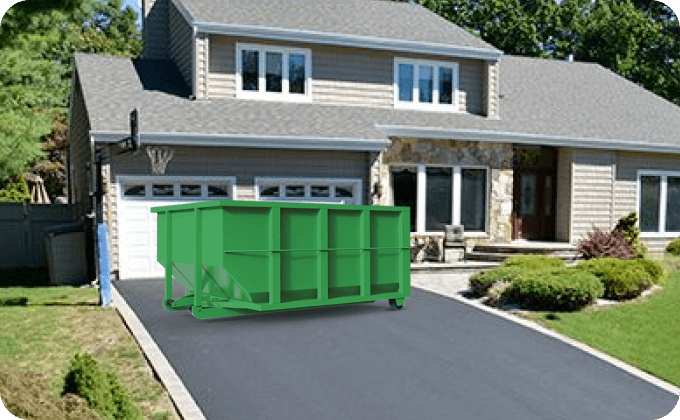 WE WILL INSTALL THE BIN WHERE IT WON'T DAMAGE ANYTHING OR GET IN THE WAY
We will install the bin where you need it, with no restrictions. If it's easily accessible for installation and convenient for you, we'll put it right there and take it when you fill it up:
On the driveway
At a specified side of the driveway
On the lawn
On the street in front of your house (if not prohibited)
Right next to the work area
We know that you rent a construction waste bin for convenience, so we won't say "no" to your preferred placement of it.